Gift Card
£57.00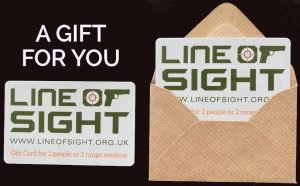 Want to experience the excitement of firing semi-automatic and bolt action rifles in a safe environment with an experienced instructor, or simply just enjoy a different type of activity?
A Line of Sight Gift Card gives you the opportunity of a  1 hour 50 minute shooting experience with our Smith and Wesson .22lr and CZ Scoped Bolt Action .22 Rifles at our purpose built range near Tarland AB34 4YD.
When you reach the payment section, if you could pay Direct to Bank that would be much appreciated, your cards will be despatched straight away.
If you have any problems please contact us at contact@lineofsight.org.uk or call 07554436226